Nowadays everyone is suffering from heating especially in summer. You might try various things like drinking cool drinks to beat hot summer days, by turning on multiple fans in our home or office, etc.
You may cool down your home by using several tactics. But it might be very challenging to beat heat into big premises like warehouse, factory, commercial building, & in Industry.
While visiting a shopping mall, you may have seen a Big Ceiling Fan at the ceiling with big wings. It's known as High Volume Low Speed Fans or Helicopter Fans.
HVLS fans are the modern day solution to this problem on the big premises.
A typical misinterpretation regarding Industrial Ceiling Fans is that they just help to cool the air. Did you know that a HVLS fan in an Industrial Facility could really build productivity?
A 2014 study from the Indian Statistical Institute entitled
"The Impact of Temperature on Productivity and Labor Supply: Evidence from Indian Manufacturing" echoed the point that labour productivity decreases in high temperature environments—with productivity reducing three percent per increase in one degree Celsius. The study also stated that "sustained heat may reduce worker attendance."
We will simplify the science behind how HVLS really works.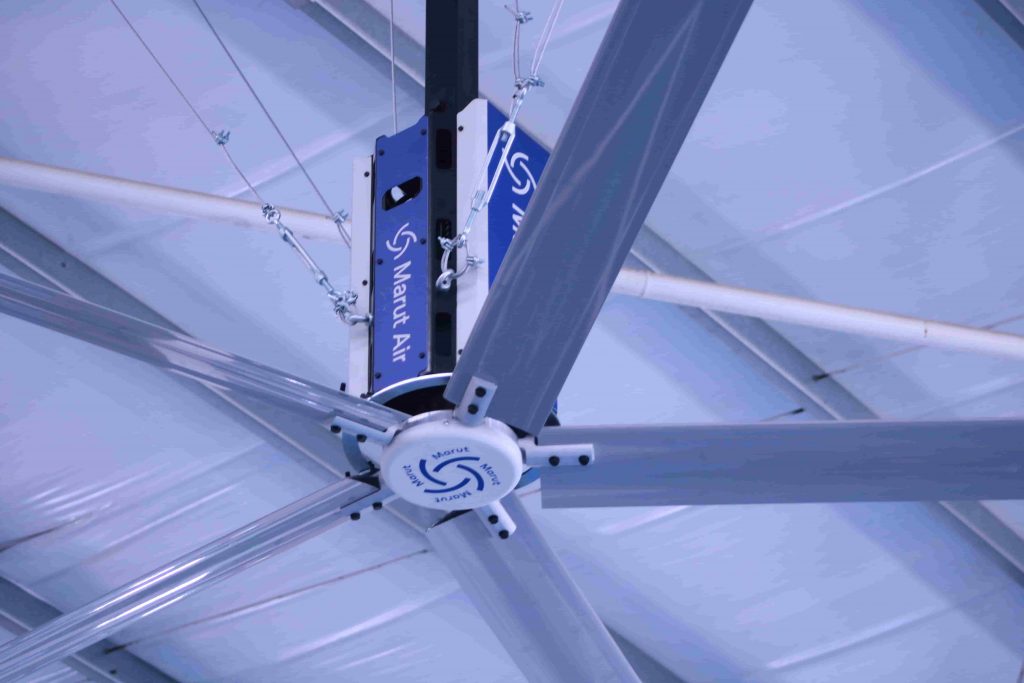 Marut Air's innovative HVLS fans work on one simple principle: air moving gently across skin feels great.
Providing large-scale airflow that controls temperature while preventing stagnant air and a dust-riddled environment.
High air turns also help eliminate toxic airborne chemicals.
Additionally, HVLS fans can manage a facility's moisture which can form on the walls and equipment in the plant or factory floor in between two different climate-controlled environments.
Proper indoor air movement can quickly dry this condensation to reduce fall risks, pollutants and bacteria associated with unchecked moisture.
By creating a more comfortable, healthier work environment, we have seen companies experience reduced employee complaints regarding heating which boosts in overall productivity.
Understanding how HVLS fans work to keep your commercial or industrial business cool in the summer is important for maintaining maximum company efficiency.
To learn more about which high performance fan would work best for your company, you can just drop your contact details, We'll get back to you soon.