Air Cooler : Design & Benefits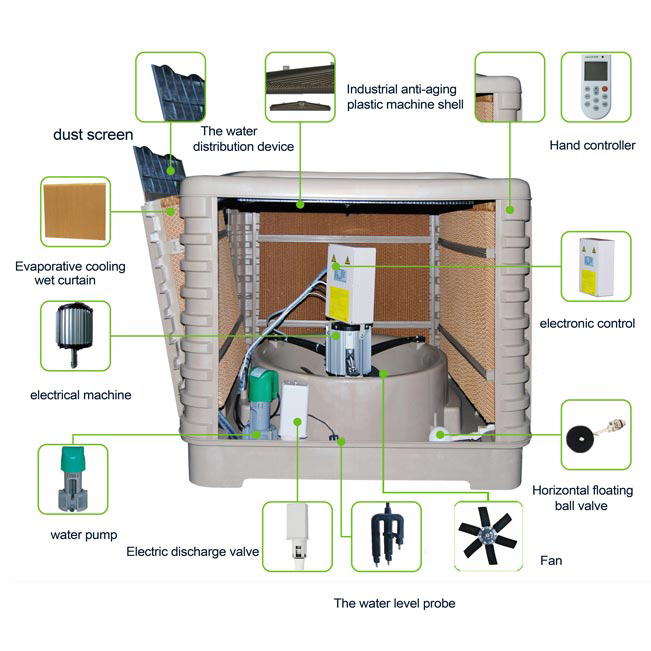 100% new update PP cabinet, anti-UV, anti-corrosion, anti-aging, anti-deformation.

High efficient evaporative cooling pad, good cooling effect, easy to clean.

Open type water distributor, smooth water flow and not easy to jam.

Intelligent controller system, equip with multi-function LCD wall controller and remote controller.

Aluminum material motor cabinet, 100% copper wire for longer life.

Smooth fan blade, low noise, especially suitable for commercial areas.

Automatic water inlet system will remind when water shortage.

0-48 hours Automatic cleaning cycle for option.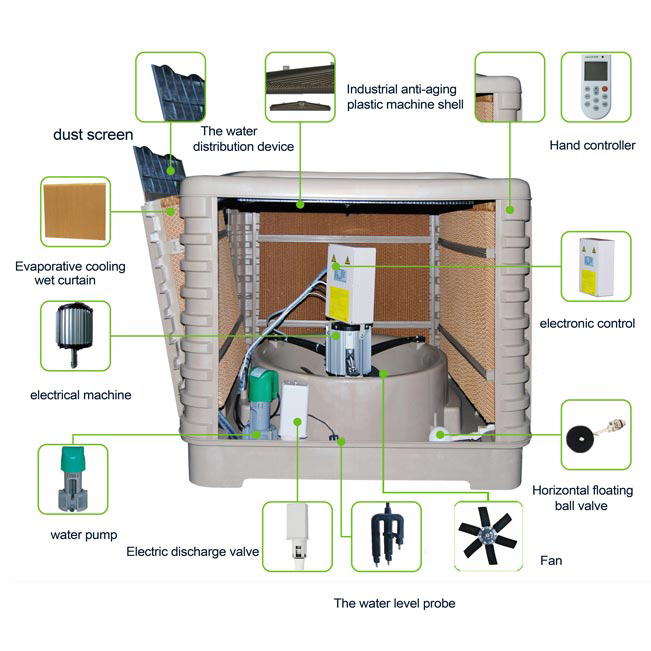 Air Cooler : Application
According to the factory's industry feature, we can choose Marut industrial air coolers for factory cooling and ventilation, our Marut Air coolers are with low power consumption to solve the poor working environment problem and improve recruitment and employment difficult issues. Depending on the air change requirement, noise requirement, investment budget etc, we can consider Marut different types air coolers with single speed, two-speed or variable speeds, three-phase or single-phase models, axial fan or centrifugal blower type models for different factories.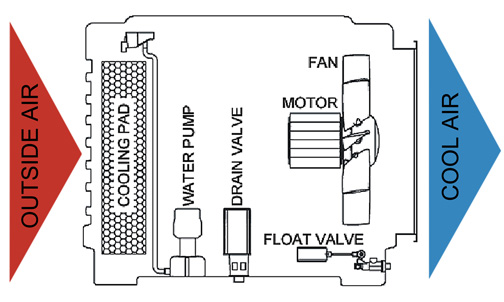 Cooling effect
Insignificant rise in temperature has created a significant need of cooling and ventilation solutions in large premises. When we think of conventional solutions on it, they are insufficient, less productive and high energy consumption.
Evaporative cooling works by employing water's large enthalpy of vaporization. The temperature of dry air can be dropped significantly through the phase transition of liquid water to water vapor (evaporation), which can cool air using much less energy than refrigeration. In extremely dry climates, evaporative cooling of air has the added benefit of conditioning the air with more moisture for the comfort of building occupants. The power consumption is only 1/8 of the traditional air conditioner. Widely be used in internet cafes, base station, factory, supermarket etc.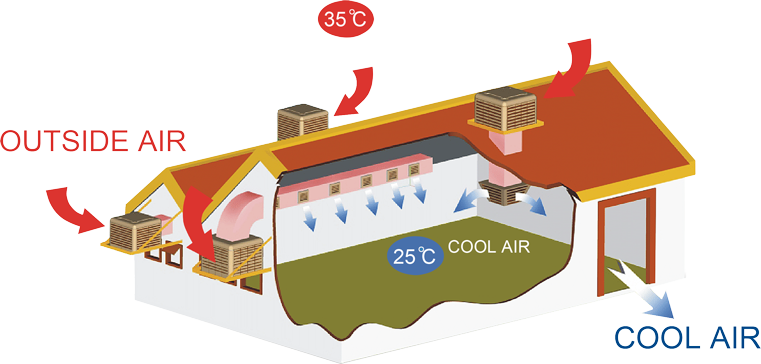 Technical Specification
Consult us for relevant solution
| Model | MR-18 | MR-20 | MR-25 | MR-30 |
| --- | --- | --- | --- | --- |
| Airflow(m3/h) | 18,000 | 20,000 | 25,000 | 30,000 |
| Power(kW) | 1.1 | 1.5 | 2.2 | 3 |
| Frequency inverter | 50 HZ | 50 HZ | 50 HZ | 50 HZ |
| Cooling pad size(mm) | (650+30)*770*10 0 | (840+30)*770*10 0 | (640+30)*860*10 0 | (840+30)*860*10 0 |
| Speed | 12(TRAIC) | 12(TRAIC) | 12(TRAIC) | 12(TRAIC) |
| Fan Type | Axial | Axial | Axial | Axial |
| Water Tank(L) | 30 | 30 | 50 | 50 |
| Noise(dB(A)) | ≤70 | ≤70 | ≤79 | ≤79 |
| Water Consumption(L/H) | 10/15 | 10/15 | 15-20 | 15-20 |
| Net Weight(kg) | 60 | 65 | 85 | 100 |
| Coverage(m2) | 100-120 | 120-150 | 120-150 | 150-180 |
| Dimension(mm) | 1.08*1.08*0.98 | 1.08*1.08*1.18 | 1.3*1.3*0.98 | 1.3*1.3*1.18 |
| Air Discharge | Down/Top/Side | Down/Top/Side | Down/Top | Down/Top |
| Air outlet size(mm) | 670*670 | 670*670 | 800*800 | 800*800 |